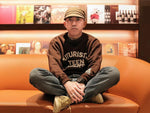 Nigo Takes on Kenzo as Creative Director
Legend of streetwear Nigo has now been named as the new Creative Director of Kenzo, effective September 20th 2021.
"I am very happy to welcome Nigo as the artistic Director of the Maison KENZO. The arrival of an extremely talented Japanese designer will allow us to write a new page in the history of the House that Takada Kenzo founded. I am convinced that the creativity and innovation of Nigo as well as his attachment to the history of the House will fully express all the potential of KENZO", says Sidney Toledano.
1993 was the year that saw Nigo's first store opened in Tokyo, where his camouflage patterned T-Shirt's catapulted him into the streetwear hall of fame.  Now known as the Godfather of Streetwear, Nigo's is known as the creator of BAPE or A Bathing Ape, Billionaire Boys Club and Ice Cream, who he co-created with Pharrell.
Taking a moment to post his appreciation on Instagram, Nigo's made this statement, "I was born in the year that Takada Kenzo san opened his first store in Paris." He goes on to say,  "We both graduated from the same fashion school in Tokyo. In 1993, the year that KENZO joined the LVMH Group, I started my career in fashion." 
In his closing statement, Nigo's notes that "KENZO is the greatest challenge of my 30-year career" but, with the support of his team he intends to devote himself to the transition.