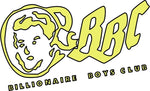 A Quick History Lesson on Billionaire Boys Club
Billionaire Boys Club is a high quality streetwear brand who's creators are Nigo and Pharrell Williams. Nigo is a successful Japanese fashion name otherwise known for BAPE or A Bathing Ape line, Pharrell being an American Musician, Businessman and Entrepreneur.
It was in 2005 when the two fashion icons merged together to create the world famous brand, BBC. Their collections range from jumpers, t-shirts, polos, tracksuits, jeans, accessories and much more.
What makes Billionaire Boys Club so attractive to its audience is it's exclusivity. Most stock is limited, meaning that each drop creates a massive hype. The combination of forward thinking designs and materials in each line makes BBC an icon in street fashion.
Since the birth of BBC, the brand has expanded massively, with Jay-Z even collaborating and the brand offering a women's range.
Billionaire Boys Club is now a style icon in street fashion. The use of pop colours and patch worked fabrics, BBC is easily one of the most recognisable brands of our decade. With headquarters in New York and Tokyo, it is clear to see how the combination of both cultures have met in the middle with this brand.